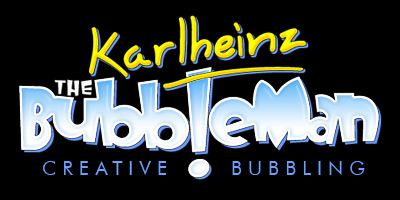 1). STAGE SHOW "A": A Stage Show with specialized bubble equipment, store bought and home made, leading up to putting someone into a bubble. The show is filled with comical, exciting and educational moments, a hit for children of all ages. Approximately 30 minutes in length, the Stage Show works well at Fairs, Corporate or Family Functions, Schools, Birthday Parties, Daycare Centres, Weddings, Senior Homes, and Christmas Parties.

2). ONSITE ATTRACTION: The Attraction show was developed specifically for Fairs and Corporate or Family Functions to fill a void of non-stage entertainment. The Attraction show is informal bubble making fun. The Attraction allows children of all ages the opportunity to experience first hand the magical tools of the Bubbleman. Like every show of the Bubbleman, the attraction includes putting people of all ages and physical capabilities inside bubbles. The Attraction is between 45 and 60 minutes long.

3). STAGE SHOW "B": The Stage Show #2 is something completely different. This specialized stage show puts bubbles in a brand new light. Your audience will be amazed by the lights making the bubbles glow in all the colors of the rainbow. It is choreographed to music with an explosion of color and bubbling fun. It will really knock their socks off. Stage Show #2 is ideal for families, adult shows, evenings or more intimate settings, with less talking, some audience participation, some comedy and don't forget, the Bubbleman loves to put people in bubbles. All in all, it is extremely visually stunning!!!! Approximately 30 minutes of Bubble fun.


ALL SHOWS NEED TO BE INDOORS, BUT A LARGE TENT WORKS FINE TOO.
Both Stage Shows require: a stage, some lights if possible, a wireless lapel microphone, sound system, and electrical power nearby. The Attraction show requires areas of 6 x 10 feet square of space for the Bubbleman and friends, and whatever extra space needed for the amount of participants you predict will use this show or stand around to watch.

Your show can and will be adapted to suit your needs and goals. Your show could be designed with a combination of any of the 3 shows listed above!